Shirin Ebadi won the Nobel Peace Prize in 2003. She won the prize for her fight for democracy and human rights.
She received the prize 11th of December in Oslo. During her stay in Oslo, she had a very tight program with meetings and press conferences.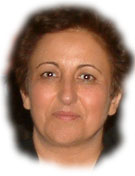 Shirin Ebadi receiving The Nobel Peace Prize
To launch our video you'll need windows media player
download
Students from Amot secondary have, with their best efforts, tried to document these events when this brave and remarkable woman was in Oslo.
This site is dedicated to the Nobel Prize winner Shirin Ebadi. She has stood up as a very courageous person fighting for children and women's rights in Iran.
Thorough interviews, statements and speeches Shirin Ebadi gave in Oslo, visitors to this site can a real impression of her thoughts and opinions.
We hope that this web site can be an inspiration for people, and especially young people, who struggle for human rights and democracy.