"Have confidence, have courage, and know that if we work hard, our struggle will be victourious."
Shirin Ebadi's advice to young human rights activists.
Learn to know Shirin Ebadi
Shirin Ebadi has consistently used the law to fight for women, children, and victims of government repression. The 2003 Nobel Peace Prize winner has led efforts to change Iran's discriminatory laws against women, to provide more protection for street children, and to free those detained for expressing their opposition to the government. She has continued her advocacy despite detention, suspension from legal practice, and repeated threats to her security.
Her work rests on the belief that international human rights standards need not contradict the principles of an Islamic society. While Iran's political environment is often portrayed as a battle between reformists and conservatives, Ms. Ebadi has chosen to stay out of the political fray, always arguing that the struggle for basic human rights should not depend on who controls parliament or the security forces.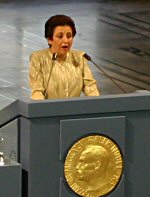 When word first emerged that Shirin Ebadi won the Nobel Peace Prize i 2003, there were more than a few people asking: Who? But for those who knew her, the announcement was no surprise. In her home in Iran, Ebadi had earned a formidable reputation as a human rights lawyer determined to fight for women, children and political freedom. She once spent 23 days in solitary confinement for criticizing Iran's leaders.

Reformers want her to attack the mullahs. The clerics want her to stop talking about human rights. But she says she intends to keep working for ordinary people, and for them, she is a symbol of hope. The day after she received her Peace Prize: one Iranian newspaper featured a drawing of a Nobel medal emerging as a golden flower from a sea of thorns.
Use the links on the right and take a closer look into the life of this remarkable woman..