The Iranian lawyer and human rights activist Shirin Ebadi was born in Hamadan in Iran in 1947. She now works as a lawyer and also teaches at the University of Tehran.
In 1969 she was graduated from the Faculty of Law, at the Tehran University.
In the years 1975-79 she served as president of the city court of Tehran, as the first female judge in Iran. After the revolution in 1979 she was forced to resign, when conservative Islamic clerics took control of the country and introduced severe restrictions on the role of women in society. Women were not suitable for such posts, as a judge, they said..
However..if getting the chance to become a judge in Iran again, Ebadi refuses: - There are laws in todays Iran I can't be part of...as stoning and cutting off hands. I can't judge anyone to some of these things.
Despite being removed as a judge, Shirin Ebadi went on to establish a law practis, taking on the kind of politically sensitive cases many Iranian lawyers would not dream of touching: She has campaigned for reforms in laws governing the rights of women and children, and represented the families of writers and intellectuals attacked and murderes by pro-government vigilantes in 1999 and 2000.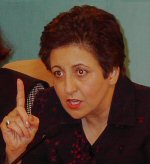 Her work exposed the link between vigilante groups and highly placed government officials. This work led to her arrest and Ms. Ebadi was jailed in 2000 for several weeks on charges of publicizing evidence of official involvement in those attacks, and she was barred from practicing law for five years after a closed trial.
Ebadi is an activist for refugee rights, as well as those of women and children. She is the founder and leader of the Association for Support of Children's Rights in Iran.
During the 1990s Ms. Ebadi published several books that used international human rights standards to analyze domestic Iranian law (among her books translated into English are The Rights of the Child. A Study of Legal Aspects of Children's Rights in Iran (Tehran, 1994), published with support from UNICEF, and History and Documentation of Human Rights in Iran.
In the face of government obstacles, she succeeded in creating one of the first officially recognized, truly independent, nongovernmental human rights organizations in Iran: the Society for the Protection of the Rights of the Child (SPRC).
In 1996 Human Rights Watch honored Ms. Ebadi as a leading human rights defender for her contribution to the cause of human rights in Iran.
In 2001 she was awarded the Norwegian Rafto Prize in recognition of her sustained fight, over many years, for human rights and democracy in Iran. In particular, her efforts have focused on strengthening the legal status of women and children.
Then two years later she was awarded the highly rated Nobel Peace Prize for "Her efforts for democracy and human rights. She has focused especially on the struggle for the rights of women and children". (Full text)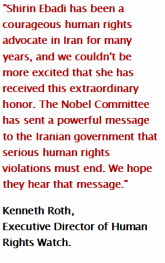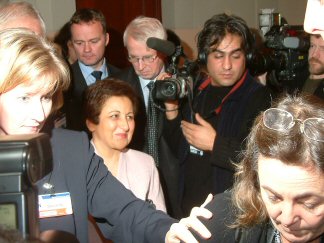 Shirn Ebadi at the press conference
in front of the Nobel Peace prize Ceremony..

Ebadi, married to Javad Tavassolian and with two grown-up daughters, was the first Iranian, the first female Muslim, and the 11th woman to receive the honor since it was first awarded in 1901.
The news about the Peace prize being awardesdMs Ebadi, made headlines around the world, but was not reported immediately on Iran's state-run media.
The news was greeted with jeers, cheers and some conspicuous silence in Iran. After ignoring the story all day, Iran's state television made the prize the final item on its evening news program, following the sports report and a story about an emergency aircraft landing in New Zealand..
The President of Iran, Mohammad Kathami told the press that The Nobel Peace Prize wasn't important. - It's the science prizes that ARE important.., he said.
Ebadi represents Reformed Islam, and argues for a new interpretation of Islamic law which is in harmony with vital human rights such as democracy, equality before the law, religious freedom and freedom of speech. As for religious freedom, it should be noted that Ebadi also includes the rights of members of the bahai community, which has had problems in Iran ever since its foundation.
With Islam as her starting point, Ebadi campaigns for peaceful solutions to social problems, and promotes new thinking on Islamic terms. She has displayed great personal courage as a lawyer defending individuals and groups who have fallen victim to a powerful political and legal system that is legitimized through an inhumane interpretation of Islam. Ebadi has shown her willingness and ability to cooperate with representatives of secular as well as religious views.

"Any person who pursues human rights in Iran must live with fear from birth to death, but I have learned to overcome my fears"

Shirin Ebadi, 1999 interview