The Nobel peace prize winner Shirin Ebadi is finally here in Norway! The reason that she gets the peace prize is her effort for the democracy and human rights.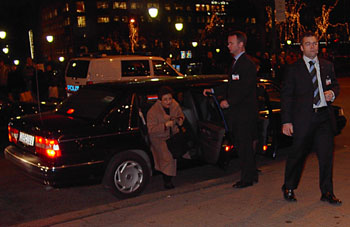 Shirin Ebadi arrives Oslo..
Early in the evening Shirin Ebadi arrived at Gardermoen. She did not wear the traditional headgear, which is compulsory in her home country. She didn't want to talk to any press when she arrived to Gardermoen. Neither did she want to talk to anybody when she arrived the Grand hotel. We did not get to talk to her either, but we talked to her friend which had known Shirin her whole life.
Open and strong woman
Shirin's friend said that the Nobel Peace Prize winner is a open and strong woman, and she was sure that she wanted to talk to us since we were youths.
Shirin's fights for children and women. Before Shirin arrived at the Grand Hotel her friend thought that Shirin would give us a little interview. But Shirin almost run past us smiling and waving to the press. Ole D. Mjøs, the leader in the Nobel Committee said that we might get to ask her a question on the press conference. Shirin's friend could tell us that Shirin usually is very open to the press, but under the circumstances we probably had to wait to the official press conference.